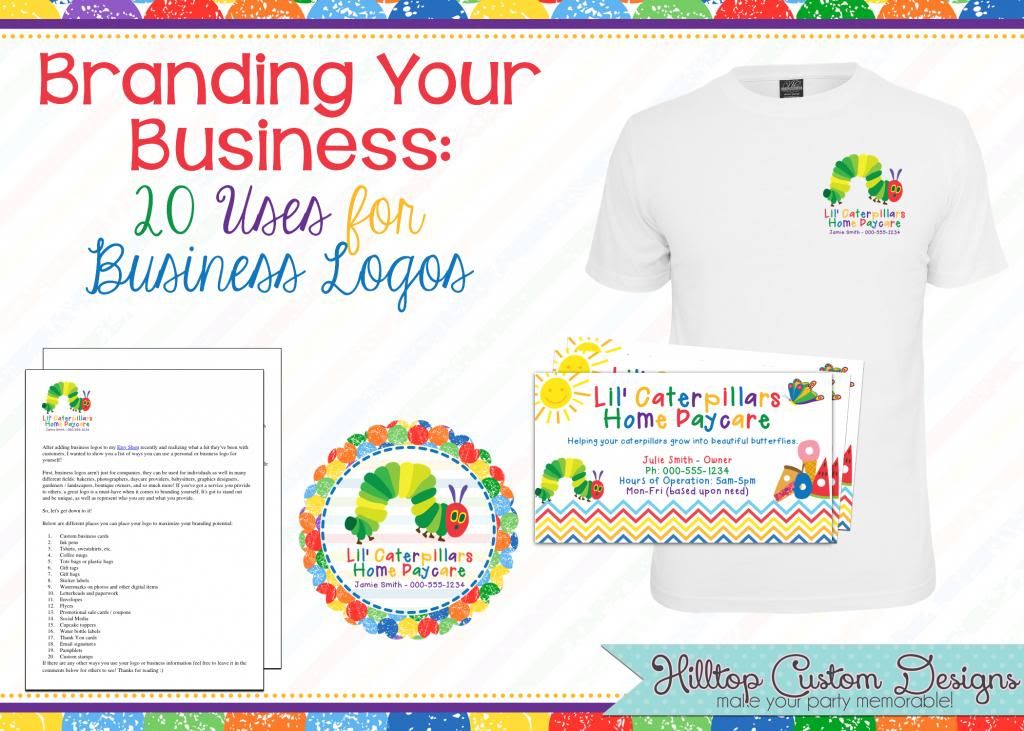 After adding business logos to my Etsy Shop and realizing what a hit they've been with customers, I wanted to show you a list of ways you can use a personal or business logo for yourself!
*Weve now moved to www.hilltopcustomdesigns.com and business items are being added slowly but sure. Email us for more info :)
First, business logos aren't just for companies, they can be used for individuals as well in many different fields: bakeries, photographers, daycare providers, babysitters, graphics designers, gardeners / landscapers, boutique owners, and so much more! If you've got a service you provide to others, a great logo is a must-have when it comes to branding yourself. It's got to stand out and be unique, as well as represent who you are and what you provide.
So, let's get down to it!
Below are different places you can place your logo to maximize your branding potential:
Custom business cards
Ink pens
Tshirts, sweatshirts, etc.
Coffee mugs
Tote bags or plastic bags
Gift tags
Gift bags
Sticker labels
Watermarks on photos and other digital items
Letterheads and paperwork
Envelopes
Flyers
Promotional sale cards / coupons
Social Media
Cupcake toppers
Water bottle labels
Thank You cards
Email signatures
Pamphlets
Custom stamps
Click here
to get your own custom business logos, cards, & more from Hilltop Custom Designs.
If there are any other ways you use your logo or business information feel free to leave it in the comments below for others to see! Thanks for reading :)